Summer in India
Co-authored by Rosemary Applen and Olivia Arstein-Kerslake
Last summer, twelve students, including ourselves, Rosemary Applen and Olivia Arstein-Kerslake, were presented with the opportunity to visit India with Triloki and Annapurna Pandey.  Our month-long trip was to serve as an introduction to field work, as well as an opportunity to experience India with our amazing professors as our guides.  The trip was a life-changing experience, and something that I'm sure all of us have learned a gr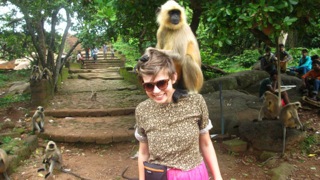 eat deal from.  Our experience definitely showed us that by stepping outside of our comfort zones and into a world of unknowns can provide opportunity for self-reflection and discovery. 
We spent our first few days in India traveling around with Professor Triloki Pandey, getting a sense of India and its religious, historical, and cultural richness. We stayed in Jaipur, nicknamed the 'Pink City' because of the stone used in many of the buildings. There we visited Amer Fort, a beautiful 16th century palace, Purana Qila, one of the oldest forts in India, and Jantar Mantar, a collection of architectural astrological instruments. And of course, no trip would be complete without seeing the Taj Mahal, so on our way back to Delhi, we stopped in Agra, Uttar Pradesh to get a couple snaps of us holding up this world famous monument.
From Delhi, we flew to Bhubaneswar, Odisha where we met up with Annapurna Pandey and where we spent the majority of our time in India. Because Odisha is Annapurna's home state, we were fortunate enough to be met with warm welcomes everywhere we went and had unique resources available for our individual research projects.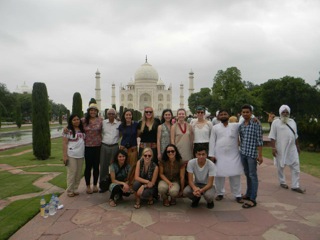 Centurion University, located in Jatni, a city just outside of Bhubaneswar, was kind enough to allow all fourteen of us to stay with them in their faculty housing.  Their hospitality and kindness was unending, and staying at the university allowed us to interact and form friendships with students to gain a better understanding of what life in India is like. Our professors' position in Indian society served as an intermediary for the group which allowed us to peak into Indian society and gave us a unique opportunity to experience the culture from a perspective that was very different from that of a tourist, a new experience for most of us. While at Centurion University, we were each able to pursue our individual projects to get a sense of what field work is, as well as take day trips to surrounding national and religious landmarks.  One of the most beautiful places we visited in Odisha was the Diamond Buddhist Triangle, a collection of three sacred buddhist sites: Ratnagiri, Udayagiri, and Lalitagiri, each consisting of monasteries, temples, shrines, and beautifully sculpted buddhas.
When we first boarded the plane in San Francisco, a month abroad seemed like a long time, but once we were submerged in Indian culture, we realized how much there was to soak in and our time there flew by. Before we knew it, we were back in Delhi, on the plane, stopping in Seoul, arriving in San Francisco, sitting in our parents' cars, and back in our own culture. We learned so much in India, about ourselves, each other, our professors and field work. But mostly, we learned that our month in India was but a glimpse of an amazingly rich, diverse culture. We were all very lucky to have had the unique opportunity that our professors provided for us and we cannot thank them enough!
See
Also