UCSC praise for Professor Satsuka's new book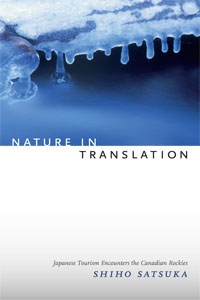 "This brilliant exposition of postcolonial translation shows how nature emerges through lively reworkings of the West. Shiho Satsuka frees science studies, still trapped inside the imagined closure and coherence of the West, to address environmental knowledge in a diverse world. Nature in Translation is a pioneering intervention." —Anna Lowenhaupt Tsing, Professor of Anthropology at UC Santa Cruz and coeditor of Words in Motion: Toward a Global Lexicon
Nature in Translation: Japanese Tourism Encounters the Canadian Rockies
From the publishers:
Nature in Translation by Shiho Satsuka is an ethnographic exploration in the cultural politics of the translation of knowledge about nature. Shiho Satsuka follows the Japanese tour guides who lead hikes, nature walks, and sightseeing bus tours for Japanese tourists in Canada's Banff National Park and illustrates how they aspired to become local "nature interpreters" by learning the ecological knowledge authorized by the National Park. The guides assumed the universal appeal of Canada's magnificent nature, but their struggle in translating nature reveals that our understanding of nature—including scientific knowledge—is always shaped by the specific socio-cultural concerns of the particular historical context. These include the changing meanings of work in a neoliberal economy, as well as culturally-specific dreams of finding freedom and self-actualization in Canada's vast nature. Drawing on nearly two years of fieldwork in Banff and a decade of conversations with the guides, Satsuka argues that knowing nature is an unending process of cultural translation, full of tensions, contradictions, and frictions. Ultimately, the translation of nature concerns what counts as human, what kind of society is envisioned, and who is included and excluded in the society as a legitimate subject.
About the author:
Shiho Satsuka is an Associate Professor at the University of Toronto, St George. She earned her Ph.D. in anthropology from UC Santa Cruz in 2004. Her research concerns the politics of knowledge, discourses of nature and science, and cultural practices of capitalism. She is interested in how divergent understandings of nature are produced, circulated, contested and transformed in translocal interactions shaped by the global expansion of capitalism. Nature in Translation: Freedom, Subjectivity and Japanese Tourism Encounters in Canada is her first book and analyzes the way Japanese tour guides translate ecological knowledge in national parks in the Canadian Rockies.