Department of Anthropology Assistant Professor Vicky Oelze announced that a large National Science Foundation Major Research Instrumentation Program grant has been awarded to will fund the purchase of a state-of-the-art mass spectrometer at UC Santa Cruz.
The proposal, "Acquisition of an Isotope Ratio Mass Spectrometer for Compound-Specific Applications in Biogeochemistry and Environmental Studies at UC Santa Cruz", was submitted by a multidisciplinary team comprised of Oelze; Professor Paul Koch, who serves as dean of Physical and Biological Sciences; Professor Matthew McCarthy of the Ocean Sciences Department, and others from the Ecology and Evolutionary Biology and Physical and Biological Sciences departments. 
The success of this proposal will allow for a mass spectrometer purchase of up to $564,000, enhancing research possibilities in many areas.  This equipment specializes in measuring the relative amount of isotopes in samples, which helps researchers understand natural systems.
Prof. Oelze is excited about how this will boost her own research.  She says, "This means that in the future we can have full access to a mass spectrometer for new cutting edge methodologies in bioanthropology, including compound specific isotope analysis and sulfur stable isotope analysis."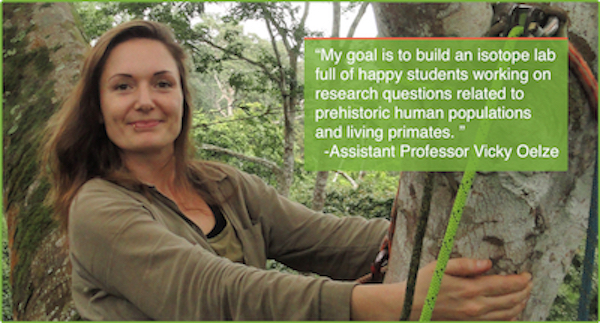 Assistant Professor Oelze, who joined the department last year, had early-on expressed her wish to build the kind of lab that the approved mass spectrometer will help make possible.