Grad Student Directory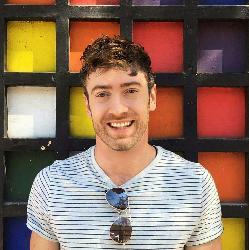 Title
Division Social Sciences Division
Department

Center for Southeast Asian Coastal Interactions (SEACoast)

Affiliations Anthropology Department
Email
Office Location

Social Sciences 1, Office 407

Mail Stop Social Sciences 1 Faculty Services
Research Interests
I am an environmental and economic anthropologist working on coastal transformations, coral reefs, coastal livelihoods, marine tenure and property rights, marine product supply chains, climate change, land reclamation, aquaculture, and fisheries policy and management.
My dissertation The World for a Coral (2022) is an ethnographic study of the Indonesian live coral trade for the global aquarium industry, based on extended fieldwork with coastal communities and commercial divers in Southeast Sulawesi.
Biography, Education and Training
2022 Ph.D. Anthropology, University of California, Santa Cruz
2016 M.A. Anthropology, University of California, Santa Cruz
2013 B.A. Anthropology & Biology (minor), Magna cum laude, Beloit College
Honors, Awards and Grants
American Institute for Indonesian Studies CAORC Fellowship, 2019
Wenner Gren Foundation Dissertation Fieldwork Grant, 2017
Fulbright-Hays Doctoral Dissertation Research Abroad Fellowship, 2017
Aarhus University Research Foundation Visiting Scholar Fellowship, 2017
NSF / Danish National Research Foundation GROW Award, 2017
NSF Graduate Research Fellow, 2014-2019
Selected Publications
2022. "Marine Hitchhikers and Nested Holobionts: Is the Aquarium Trade Creating Weedy Sponge Invaders?" with Stine Vestbo, Peter Funch, and Anna Tsing in Rubber Boots Methods for the Anthropocene. Rachel Cypher, Astrid Oberborbeck Andersen, and Nils Bubandt, eds. University of Minnesota Press. https://www.upress.umn.edu/book-division/books/rubber-boots-methods-for-the-anthropocene
2020. "Earth Displacements," Engagements, Anthropology and Environment Society Blog https://aesengagement.wordpress.com/roy-a-rappaport-prize-competition/
2017. "No Limits." Platypus, CASTAC: Committee on the Anthropology of Science, Technology, and Computing. http://blog.castac.org/2017/08/no-limits/
Teaching Interests
Environmental Anthropology, Economic Anthropology, Ethnography, Human-Ocean Interactions, Environmental History and Historical Ecology, Queer & Feminist Theory, Political Ecology, Fisheries and Marine Conservation, Science and Technology Studies (STS), Maritime Southeast Asia.