FEATURED 
RESEARCH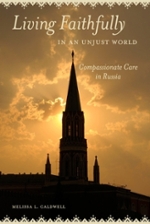 Professor Melissa Caldwell's new book explores compassionate care and community in Moscow. More»
Undergrad 
Drop-In Advising
The Anthropology Undergraduate Advising Office (located in 361 Social Sciences 1) is open for drop-in advising Monday - Thursday, 9am-11:45am and 1pm-3:45pm.
Anthropology 
Events
The Anthropology Department hosts a variety of events throughout the year which highlight aspects of the department and current issues in the field of anthropology, including Colloquia, Arch/BioAnth Lunch Talks, and Emerging Worlds Lecture Series.
Our 
Alumni

Don't be an artifact.  Get connected, stay up to date, and reach out to the next generation of anthropology students through our Alumni Home Page.
News Spotlight: Alum On Today Show For Work With Gorilla At Florida Zoo